Zulu UC Desktop Integration unifies the most popular business communication tools & applications enhancing user productivity. Designed specifically for Pulsar360 Corporation phone systems, Zulu enables features such as:
Zulu Softphone

enabling users to make/receive phone calls from their desktop or mobile stations, including Chat for team collaboration.

SMS & Faxing

directly from the Zulu widget & softphone.

Click-to-call

to make calls directly from your web browser and /or email client.

Call Pop

for CRM and help desk integration.
FEATURES
Zulu Softphone
At the Center of the Zulu is the all new softphone enabling users to take their office with them and never miss a call.
Make and receive phone calls using Desktop
Send and receive SMS* and FAX*
Control Presence status which will update your status on all your devices
Flexible Calling Options- generate a phone call from either the client on your desktop or your desk phone. Great for mobile users who come and go from their workstation.
* SMS requires SIP Trunking Service and Faxing requires the P360 Fax Module
Chat
The Zulu UC SoftPhone features integrated Chat functionality so that staff members can communicate with each other more effectively. Features like 1-to-1 messaging, group chat, file transfer and auto-archiving will improve employee collaboration and improve business results. Finally, one tool to do it all!
Presence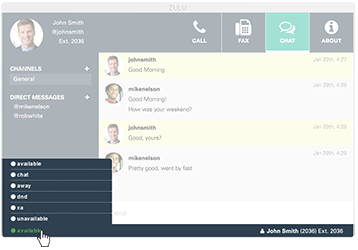 Improve communication between staff members by allowing them to see each other's presence via the Zulu SoftPhone. This feature can save your employees time by reaching out to members who they know are available to take their request.
Users can set their presence using a variety of pre-set status or create their own. And because Presence is server side, a user's presence will be updated across all communication endpoints automatically too.
Click to Call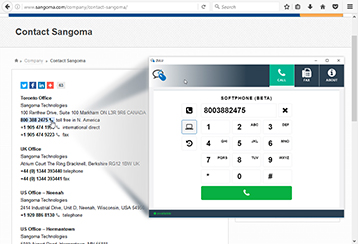 With Click-to-Call integration, users can instantly call any phone number that is seen on their web browser or MS Outlook client which a click!. Simply click on the phone number and Zulu will initiate an outbound call via the softphone client or your desk phone, whichever is with you at the time. Great for mobile users who come and go from their workstation.
Click-to-Call also recognizes extensions and phone number prefixes, so you never have to worry about having to modify the phone number or extension you wish to click to dial.
Call Pop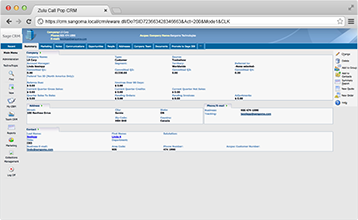 Ideal for CRM and Help Desk Integration, Call Pop will automatically open your desktop web browser on an inbound call with all the information of the caller. This feature helps users expedite phone calls and provide the caller with the best customer service experience.
SMS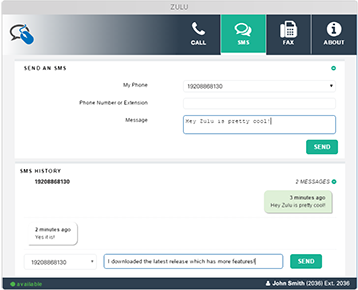 Engage your audience more effectively than email by SMS for promotions or same day correspondence.
Zulu provides you with the freedom of choice to send or receive SMS messages directly from your MS Outlook email client, Zulu Widget or Zulu soft phone.
* SMS require SIP Trunking Service
Faxing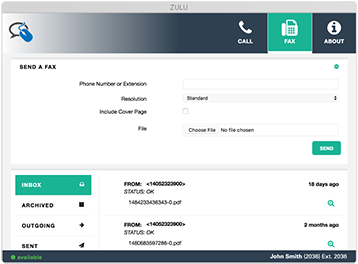 No longer do you have to walk to your fax machine or open up your fax application. Send the fax right from Zulu.
Zulu allows you to send or receive faxes directly from your MS Outlook email client, Zulu Widget or Zulu soft phone.
* Faxing requires the P360 Fax Module
GETTING TO THE DETAILS
Pricing
All the above features are included in the standard Zulu pricing. Zulu is available in 20-seat packages and can be purchased by visiting the Portal or Request a Quote.
Compatibility
Operating System: Zulu UC is compatible with Windows, Mac and Linux operating Systems. Browsers: Click-to-call and Screen POP work with Firefox and Chrome (Safari coming soon).
User Options
Each of the Zulu features can be fully controlled from the Pulsar360 Corporation phone system Administration Webgui. Choose to enable or disable SMS, FAX, or the softphone on a per user basis.
Browser Plug-Ins
Click or highlight a phone number on any web page and call it via their PBX.
Why Choose Pulsar360 Corporation?
Pulsar360 Corporation's customer-centric approach, product innovations, and worldwide network of distribution partners deliver the industry's best-engineered, highest quality, IP and Unified Communications solutions, supporting "any app, anywhere" for businesses and service providers of all sizes.
All Pulsar360 Corporation products are backed by more than 30 years of IP communications experience, expert engineering and technical resources, and a comprehensive 1-year warranty. Extended warranties are also available.
What are you waiting for? Let's get started! Contact Us