NetGear GS105Ev2 ProSAFE Plus 5-Port Gigabit Ethernet Switch – Non PoE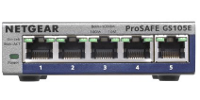 NETGEAR Smart Managed Plus Switches meet this growing need by providing fundamental network features that will help optimize the performance of business networks. On top of the plug-N-play Gigabit Ethernet connectivity, these switches also offer essential networking features such as VLAN, QoS, IGMP Snooping, Link Aggregation / Port Trunking on models with 16 ports or more, rate limiting and traffic monitoring.
NetGear ProSafe Plus Switch 8-port Gigabit Ethernet Switch with 4-port PoE

The Smart Managed Plus Click Switches GSS108E (8-port), GSS108EPP (8-port with PoE+) and GSS116E (16-port), all feature an innovative and flexible mounting bracket, making it easy to mount them vertically or horizontally, flat or perpendicular, on a wall, under a desk, or strapped to a pole, allowing you to put your ports where and how you need them!