January 21st, 2019 by Pulsar360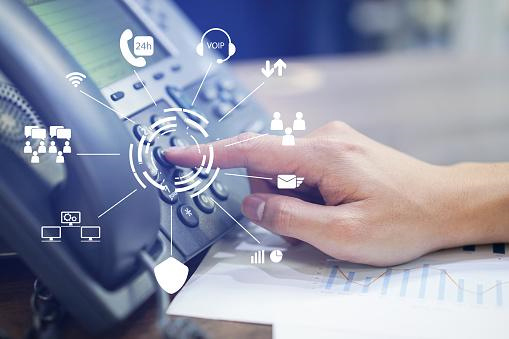 When it comes to picking the perfect VoIP phones for your business, there are plenty of options out there - so many, in fact, that finding the right one can be a challenge.
Identifying the best phone for your unique needs may come down to more than just how it looks on your desk - you'll want a phone packed with features to keep your most important business running smoothly without ever hitting a hiccup.
Here's a look at our top ten favorite features available on modern VoIP phones, and why you might want to keep these features in mind next time you're ready for an equipment upgrade.
Simple Setup & Zero-Touch Provisioning

No business owner or IT team has time to waste with confusing setups or complicated integrations. When it comes to implementing new VoIP phones into your new or existing system, out-of-the-box and easy-to-install are always best.

That's why we prefer VoIP Phones with simple installation and features like Zero Touch Provisioning, which get your system automatically provisioned and configured without having to spend hours manually configuring many different parameters and hundreds of extensions.

TFT or LCD Color Display Screen

Few features add to the ease-of-use for a VoIP Phone quite like a beautiful TFT or LCD Color Display Screen. Brightly illuminated for clear, touch-based scrolling, these engaging visual elements help users quickly and effortlessly navigate through menus, contacts, and the phone interface for easy operation among all skill and experience levels.

High-Definition Voice Quality

A reliable phone system is only as good as the call quality it can provide. That's why we recommend looking for phone systems with reliable High-Definition voice quality available on all calls, helping to keep your connection strong and clear regardless of distance, time, or conditions on the ground.

Full-Duplex Speakerphone & Conferencing

When the time comes to gather your most important team members together for a conference call, it's critical that you can rely on your phone to provide the connection you need to keep things moving. We recommend a model with full-duplex speakerphone and 5-way conferencing to ensure all voices on all of your teams can be heard in real-time, without ever losing a sentence in the process.

Multiple SIP Accounts

For many professionals, having multiple extensions or outbound numbers on the same phone can be hugely valuable. For those individuals, we recommend choosing a phone with multiple SIP accounts, letting you seamless switch between extensions or numbers from the same phone with the push of a button. Many multi-SIP phones can also enhance security using by SIP over Transport Layer Security (TLS/SSL) for added protection.

Security with Built-in VPN

When it comes to security, few tools can help provide more peace of mind for your VoIP Phone system than a VPN. A connected VPN client can allow a VoIP Phone to automatically connect to the corporate PBX system - perfect for remote workers to be able to access all their tools from the office without compromising security

Hot Desking

For multi-location businesses or businesses with many remote workers, being able to access a personal phone profile from any VoIP phone in the business may be critical to keeping everyone connected while on-the-go. By choosing VoIP Phones with Hot Desking, businesses allow users to access their phone data from any phone with ease.

Full Integration with PhoneApps

Most smartphone users know the value of phone apps in getting everyday business accomplished on track, but for many that technology remains unavailable on VoIP Phones. With access to PhoneApps on Sangoma's family of IP phones, users can access a bundle of advanced applications which install directly onto your IP Phone. This allows users to convert all those complicated features into easy-to-use visual applications with easy control directly from the phone's display.

Bluetooth, WiFi, and USB Recording

Keeping a full account of your phone conversations becomes significantly easier with the integration of recording options on each and every device. That's why we recommend VoIP Phones with Bluetooth, WiFi and USB recording tools, preferably connected to a USB 2.0 for total flexibility across all recording needs.

Multi-Port Conference Calling

Bringing the entire team together for conference calls is critical to many businesses. For those in need of comprehensive conference coverage, multi-port conference calling may be the best solution to keep all of your teams and contact points connected and engaged right when you need it.
We Make It Easy To find The Perfect VoIP Phones
We know that choosing the right VoIP Phone for your office or business is no easy decision, and with so many features out there for the choosing it can be difficult to find the perfect option.
That's why Pulsar360, Inc. is making it easy to get the VoIP phones you need. For a limited time only, we are offering phone hardware at NO COST with select plans during our Free2Flex promotion! Simply sign up for a Free2Flex plan 12-60 months in length and you'll be eligible to receive FREE 10/100 and GigE phones with advanced placement warranty!
Ready to get outfitted with the right VoIP Phones? Get in touch and see what we can do to get your temas connected, better than ever.
Posted in: Articles