Gateway TelNet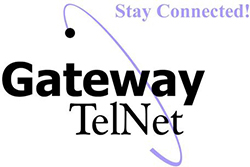 Based out of Van Nuys, California, Gateway TelNet has over 70 years of experience in the telephone industry and is comprised of a broad range of qualified professionals who bring years of experience in sales, training, customer service, technical support, and installation of voice and data. Gateway TelNet was founded in the year 1999 with the intent to assist the business world in filling the needs towards the convergence of voice and data
Focused on Dynamic Partnerships
The Gateway TelNet family is committed to establishing and maintaining a dynamic partnership with every customer. Extensive technology and service expertise allows our team to develop an understanding of each customer's unique telecommunications requirements and to respond to those requirements quickly and effectively. Operating as a team, their technicians are always in contact by mobile telephone and wireless radio.
Their services and products include business telephone systems, voice mail, computer-telephony integration, call accounting systems, and computer networking solutions. Gateway TelNet can provide complete design, installation, maintenance, and technical support for a variety of voice and data solutions.
Family Atmosphere
Over the years, Gateway TelNet has grown by providing a family atmosphere where the customer is given competitive pricing, knows our friendly employees, and receives exceptional service with a smile. They look forward to working with their clients to exceed all of your telecommunication needs.
Even in a difficult economy, Gateway Telnet has found Return on Investment opportunities to allow businesses to increase technology and increase their competitive advantage in the marketplace all at a cash neutral position. Partnering with TAG National and its 110 affiliates, Gateway Telnet has the unique capability of installing and servicing a variety of cutting edge communications technologies anywhere in the United States while maintaining the finest service program in the marketplace.
"We are very pleased to feature in this month's Partner Highlight, Gateway TelNet. They have been an invaluable partner that has hit the ground running adding tremendous benefits to their customers especially when it comes to providing Pulsar360 Corporation services. Gateway TelNet offers a unique blend of customer centric service and support with an insurmountable effort on business class technologies and expertise," stated Bob Harrison, Chief Channel Officer, Pulsar360 Corporation
Over the last year, Gateway Telnet has embraced its role as a MTSP (Managed Technology Service Provider). "This space is a perfect fit for us" quoted Jerry Hilecher, President of Gateway Telnet. "By combining expertise in not only IP Voice, but also Cyber Security and IT support, our company can meet the ever changing needs of our clients and the technology environment."
For more information about Gateway TelNet
Company: Gateway TelNet
Website: https://www.gatewaytelnet.com/
Email: service@gatewaytelnet.com
Call: 818-775-1234
What are you waiting for? Let's get started! Contact Us